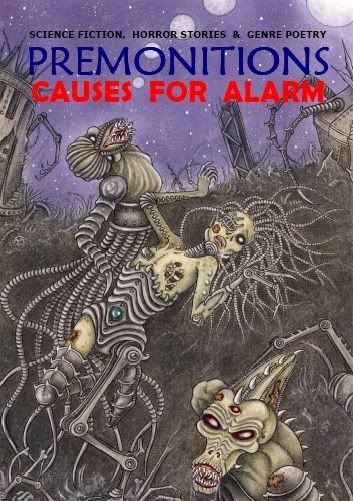 Delayed for years (actually four years... argh!), a new issue of Premonitions is finally with the printer, and due for publication in nifty paperback, next month!
Here's the press release:
Premonitions:

Causes For Alarm
Magazine-anthology of science fiction, horror stories, and genre poetry
Now in A5 paperback format, with nearly 57,000 words of 1st class writing!
Fiction by Matt Bright, Andrew Darlington, Waldo Gemio, Peter Hagelslag, David Howard, Patrick Hudson, William Jackson, Sue Lange, David McGillveray, Matthew Pendleton, Steven Pirie, Cyril Simsa, Jim Steel, Julie Travis, and Fred Walker.
Poems from: Cardinal Cox, J.C. Hartley, John Hayes, Steve Sneyd, and J.P.V. Stewart.
Cover artists: Chris Moore, and Caroline O'Neal.
UK only: £5.95
Prices for overseas orders will be announced, shortly
Order direct from the Pigasus Press website at
www.pigasuspress.co.uk